By Paul Sullivan
Oct. 11, 2021
I began writing the Wealth Matters column in December 2008. The column was conceived earlier that year, when the economy still appeared to be running high. But by the time the first one ran, the economy was deep in crisis, and Americans were worried about their investments, their savings and, in many cases, their homes.
It took years for many Americans to recover. As for the wealthy, they have flourished in those 13 years.
---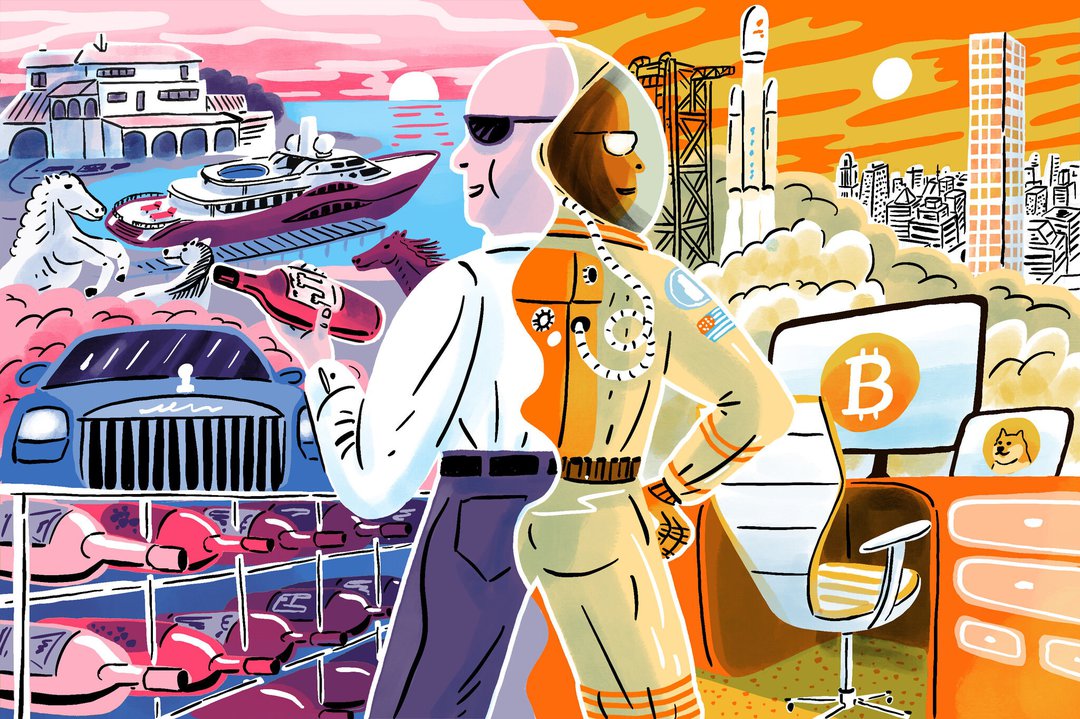 ---
I'm writing my last column — No. 608 — as the COVID pandemic has highlighted how stark income inequality has become. We have multiple billionaires blasting into space on their own rockets, high above the economic, financial and health problems of the rest of the world.
So for this Wealth Matters column, I called a group of people who work with or study the wealthy, people I've leaned on repeatedly over the years for insights, and asked them this open-ended question: How has the perception of wealth changed from 2008 to today?
"I got death threats the first time you mentioned me in your column and the last time, too," said Brad Klontz, a financial therapist whom I first quoted in February 2009 and most recently last month in a column about whether $400,000 in annual income qualified someone as rich for tax purposes.
He was one of my go-to sources to explain why there was often such a visceral hatred of the wealthy in America — for which he was thanked by online attacks.
"There's this psychological drive to disparage those who have more money than us," he said. "Yet if you make $50,000 a year, you're one of the top 1% richest human beings who has ever walked the Earth. But my question is: Do you feel rich?"
That line, said on a CNN show, got him "an email about building a guillotine and stacking financial therapists like firewood," he said.
(Just last week, after I wrote about the private aviation industry dealing with a surge in demand in the pandemic, I received this email from a reader: "Mr. Sullivan, What may I do to help these private jet owners suffering so in these terrible times? I look forward to hearing your insights on assistance to these troubled parties. Thank you.")
So from one perspective, the columns attracted readers critical of my efforts to describe the actions and concerns of the wealthy.
But James Grubman, a psychologist and consultant to wealthy families, said those negative sentiments about wealth were shared by wealthy people and their advisers.
"We've been told rich people destroy their children and families, and it's taken as a truth," Grubman said. "But fears are not outcomes."
In particular, Grubman said, the belief that someone's wealth will be squandered in three generations — the shirtsleeves to shirtsleeves story — isn't supported by more recent research.
If anything, many inheritors are shaking off the stereotype of the do-nothing trust fund kid, said Dennis Jaffe, who consults with wealthy families and has collaborated with Grubman on research.
"The biggest thing is younger generations have stepped out of the shadows," said Jaffe, a sociologist. "The story of wealth today is second- and third-generation leaders and innovators not being a pale imitation of their parents."
If there is one thing that the wealthy and the middle class have had in common since 2008, it's the memory that a crisis can shake perceptions of wealth. The years since have given them time to put a financial plan together.
"I reflect back on that period of 2008 and 2009 quite a bit," said Michael Liersch, head of planning and advice for Wells Fargo's wealth and investment management division. "For many, it felt surprising. And it was a surprise, but it allows people to learn. Something unexpected causes people to update their beliefs."
People are now more open to talking about wealth, he said, asking questions like: "How did you make that trade-off? How much did it cost?"
And investors realized that they needed a plan to protect what they'd earned, whether they were a tech billionaire or a tech worker.
"When times were good, it can seem like they're always going to be good," said Sharon Klein, president of family wealth for the Eastern United States at Wilmington Trust. "Sometimes you don't understand that until you have a really disruptive event like we had in 2008. A lot of people learned that you need to be really coordinated and have a team so you can pivot and change on a dime."
She added that more of her clients today "are poised to take advantage of opportunity but also be defensively positioned if something happens."
The perceptions of wealth as it relates to taxes and investing have also changed. Now, many more people believe that the wealthy have advantages over everyone else, and even the accountants and lawyers who service the wealthy accept some of that criticism. Take the report in ProPublica in June that Peter Thiel, tech entrepreneur, has $5 billion in a Roth IRA, on which he will pay no taxes when he withdraws the money. Individual retirement accounts were created by Congress to help the middle class save for retirement.
"I'm convinced that changes to planning tools are in the cards," said John Dadakis, a partner at the law firm Fox Rothschild. "Look at the Roth IRA and what happened there. It's great for some people, but the concept of creating a $1 billion Roth IRA or even a $100 million Roth IRA where you don't have to pay any taxes is clearly the wrong result."
Richard A. Behrendt, a former inspector for the Internal Revenue Service who then worked for a decade helping people hold down their tax bills, said that when he was at the IRS, "one of the biggest takeaways for me was the mechanizations that very well-meaning people in the law and accounting world would undergo for their clients."
"There's a duty of loyalty, but it's the extent," he added. "It has always struck me the degree to which people would go."
Behrendt, who now runs a small law practice in Milwaukee, serving middle-class taxpayers, cited the Pandora Files, which revealed how heads of state, business leaders and others moved money offshore to avoid taxes.
"We as a profession can do our jobs and serve our clients well without pushing the envelope," he said.
Michael Sonnenfeldt, founder and chairman of Tiger 21, an investment club for people who have at least $10 million in assets, said he had seen a marked shift in the group's membership. Besides skewing younger, many members perceive their wealth as a way to effect change, not a chance to sit back and relax.
"People aren't retiring no matter how wealthy they are," he said.
Yet that isn't driven by a feeling that they're going to lose it but more by what they can do with it.
"I can only speak for myself," said Sonnenfeldt, who has built and sold three companies, "but my assets allow me to be more consequential in making climate-related investments."
Putting money into climate-change investments is something that any investor can do. And that was my original goal for this column — to give readers a look at what the wealthy are doing and apply it in their own financial decisions.
But through the years, some of the things I wrote about — superyachts, $31,000-a-year personalized workouts — were totally inaccessible to even the merely rich. I saw them as an anthropological look at wealth in America, or at least some wealth voyeurism. But those columns set off some readers.
One of the most memorable was Harris Lirtzman from Yonkers, New York.
"I really find your column disgusting," he wrote in one email. "This is what YOU earn YOUR living writing about in this freaking economy?"
Well, Mr. Lirtzman, if you're still reading, I bid you farewell.
c.2023 The New York Times Company
This New York Times article was legally licensed through AdvisorStream.