By Olivia Rockeman and Catarina Saraiva
March 24, 2022

In almost every way measurable, millennials in the U.S. at 40 are doing worse financially than the generations that came before them.
Fewer millennials own homes than their parents did at their age. They have more debt — especially student debt. They simply aren't as wealthy.
Now, if predictions of a long, post-Covid economic boom are to be believed, this may be the last opportunity an entire generation has to build wealth before heading off into retirement.
For Kellie Beach, a real-estate attorney who turned 40 in April, that means starting by aggressively paying down her credit-card debt. Beach has cycled between periods of carrying balances and paying it all off. "I stayed afloat with credit cards," she said. "I was just used to swiping and overspending."
The pandemic jolted her into taking a hard look at her habits.
"Now I have this feeling — like this fire — of urgency," Beach said. "I'm not going to be in this place again. I can't wait to get out of this debt. I can't wait to save up for my emergency fund and invest again."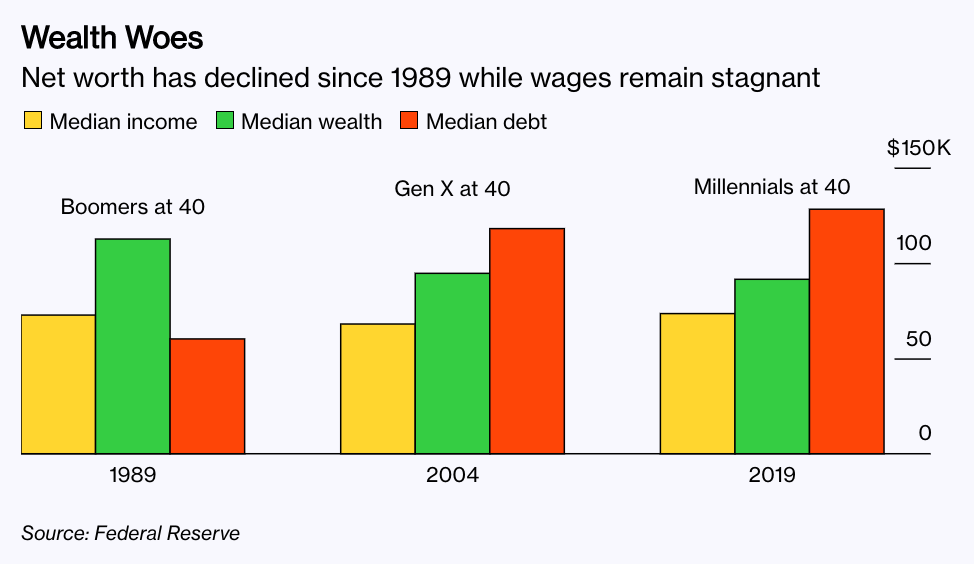 In April, a month after turning 40, Dustin Roberts bought his first house. He was older than his parents were when they became first-time homeowners: his mom in her 20s and his dad in his 30s. He wasn't able to save more quickly for a down payment because money instead went to his student loan payments. He has $38,000 remaining in student debt from San Diego State University.
"My dad had always tried to tell me how important it was to buy a house, how that was a mode of financial security for him," said Roberts, who works in sales at Milwaukee Tool in Savannah, Georgia. "I'm making more than my dad did, but am I better off? I don't know that I can say yes."
The oldest U.S. millennials — born in 1981 — turn 40 this year. Older members of the generation — mocked recently as "geriatric millennials" — came of age during a long stretch of prosperity in the 1990s, the second-longest period of expansion in U.S. history. Unemployment was steadily falling. If millennials remember a recession at all from their childhood, it might be a brief one in 1990 in which the economy contracted less than 2%.
But since entering adulthood, they've been hit with major recessions at critical stages in their financial development: They were 27 years old when Lehman Bros. went bankrupt, and the Great Recession dug in when they should have been establishing themselves in the workforce. "The Great Recession knocked everyone for a loop," said William Gale, senior fellow in the Economic Studies Program at the Brookings Institution. "It caused unemployment. It caused slow wage growth. It made it harder to accumulate wealth."
Then, as millennials hit the point in their careers where people traditionally move into higher-paying managerial roles, the pandemic hit. In 2020, the U.S. economy contracted 3.5%; When the oldest Baby Boomers turned 40 in 1986, the U.S. economy expanded at a 3.5% rate.
Now the U.S. economy is humming again, with sectors like retail sales and manufacturing stronger than they were before the pandemic. Stocks are at record highs, and wealth is swelling — especially for the wealthiest Americans. It remains to be seen whether jobs and wages will catch up.
Student debt
Some of the differences in wealth among the generations can be attributed to student debt.
More millennials borrow to pay for college than previous generations, and the loans are bigger. Millennials, who started college in 1999, paid an average of $15,604 per year for undergraduate tuition, fees and room and board. When Gen Xers and Baby Boomers started college, that number — adjusted for inflation — was about $10,300 for each of them.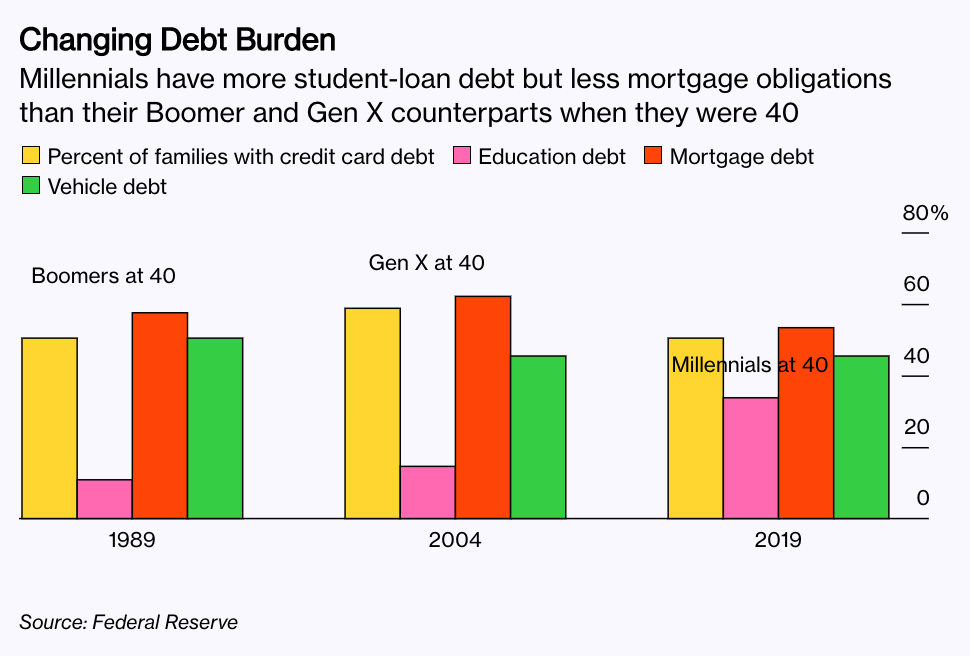 Those costs often follow people for years. Summer Galvez, who turns 40 this month, attended Clark Atlanta University in Georgia for a couple of semesters but withdrew because she couldn't afford it. During the financial crisis, she was laid off from two jobs. Galvez now runs two successful businesses in Dallas — a marketing firm and a bakery — but she is still paying student loans 20 years later, even though she didn't receive a degree.
Galvez says she relies on her own skills and hustle because big companies don't provide job security. "There are always economic factors that could happen that could just really upend your life," she said.
Going to college was more important for today's 40-year-olds. Millennials with bachelor's degrees or higher earn 113% more than what they would have earned with only a high-school diploma. But college-educated Baby Boomers made only 57% more than their peers with high school degrees.
"That's one of the stark evolutions of the job market, where education has become a greater predictor of success," said Lowell Ricketts, data scientist for the Institute for Economic Equity at the Federal Reserve Bank of St. Louis.
Homeownership
Some economists predicted millennials would avoid buying homes after the 2008 housing market crash. They haven't, but their homeownership rates are lower than previous generations at the same point in their lives: 61% for older millennials, 68% for middle-age Gen Xers and 66% for middle-age Boomers.
"The basic way that middle American households build wealth is through their homes," said Richard Fry, a senior researcher at Pew Research Center. "Millennials have been less likely to be homeowners. Fewer of them have begun the process of building home equity."
One culprit could be housing prices, which have increased — especially compared with earnings. Millennials are paying a median of $328,000 on homes. Baby boomers only had to spend $216,000 — adjusted for inflation — in 1989. Wages, on the other hand, have only risen 20%.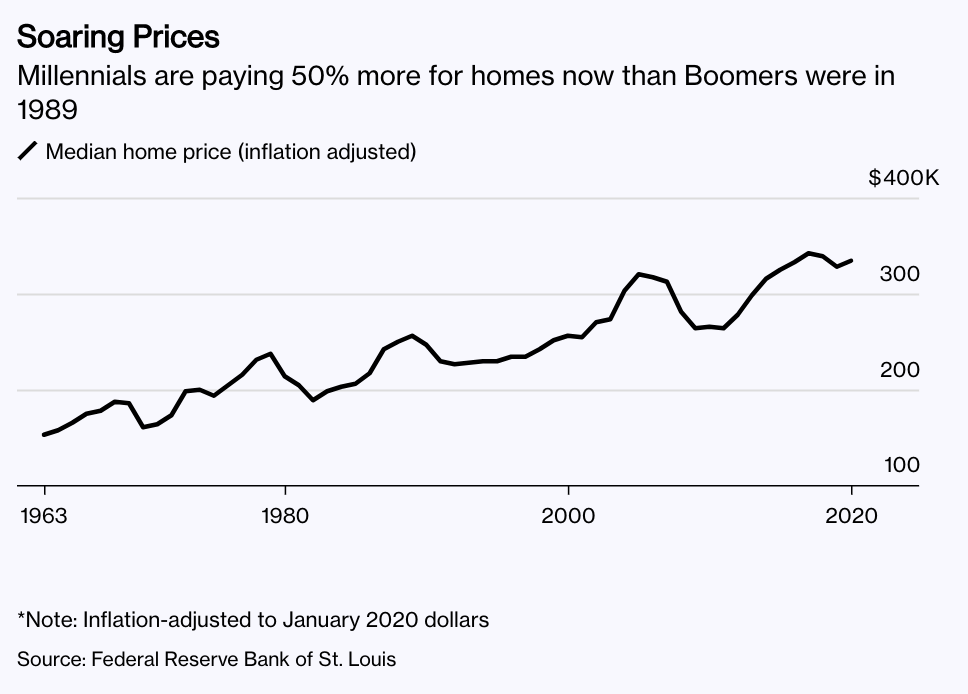 In 2020, 18% of millennial renters said they planned to rent forever, up for the third consecutive year, according to a report from Apartment List. Among millennials who do plan to buy a home, 63% have no money saved for a down payment, the report said.
The share of millennials living with their parents is also significantly higher than in previous generations. "Conceptually, that could help their wealth accumulation because they'd be paying less for rent and they could save more," said Gale of Brookings, a co-author of the NBER working paper. "But in practical terms of what happens is it's an indicator of lack of economic status."
Another factor: The housing market right now is ultra-hot, thanks in part to ultra-low mortgage rates.
"That's great if you're a homeowner," Gale said. "But it's terrible if you're a renter trying to buy a home."
Net worth
The typical Baby Boomers had about $113,000 — in today's dollars — in wealth in 1989, when they were in their early 40s. Older millennials had a net worth of just $91,000 in 2019.
The millennial cohort is also more racially diverse than the generations before it, and because of structural racism, minority populations often have lower wealth accumulation and wages, which weighs on net worth averages, Gale said. The median White family has nearly eight times as much wealth as the median Black family, and more than five times as much as a Hispanic family.
The pandemic has widened inequalities in the U.S.: The unemployment rate for Black Americans has recovered slower, and remains much higher, than the rate for White Americans. Meanwhile, Americans of color are more likely to be employed in industries that are undergoing rapid change with automation and e-commerce, including retail and transportation.
"If we continue to see these inequities, it suggests that we're really going to have a hard time achieving financial stability and upward mobility more broadly among American families," Ricketts said.
Catching up
Because the life expectancy of the American population is on the rise, millennials also receive family inheritances — if available to them — later in life, which could account for why people turning 40 today have lower net worth than generations prior.
By then, "it might be too late for them to take advantage of it and meet some of those mid-life goals that wealth really helps with achieving," such as owning a home, investing in the stock market and paying down debt, Ricketts of the St. Louis Fed said.
For individuals, the first step is figuring out where you are — and what you need most, whether that means minimizing taxes or expenses, or generating more income, said Juan G. HernandezAriano, a certified financial planner and director at WealthCreate, a financial advising firm in Spring, Texas. Many people would benefit from figuring out a new payment plan for student debt. In addition, people who have newly hit middle age have some flexibility their parents didn't have: more ways to invest, different car insurance options or the ability to work from home, for example.
"Bottom line: Are millennials behind? Yes. Can you catch up? Yes," he said. "How? First and foremost, defining your goals. Once you define your goals: build a budget, improve that budget, diversity not only from an investment perspective but an income perspective."
Older millennials can move the needle, starting with an emergency savings account — and even small amounts can help, said Signe-Mary McKernan, an economist and co-director of the Opportunity and Ownership initiative at the Urban Institute in Washington. They can then focus on contributing to retirement accounts, or buying — and keeping — a home.
"I don't think it's too late," she said. "If we set up this stronger foundation for economic security, if it's institutionalized for everyone, then it could make life better for young millennials, for older millennials, for future generations and for the country as a whole."
Methodology: Millennial and Baby Boomer data on net worth, stock ownership and homeownership represented at the top of this article were found using Federal Reserve data from the 1989 and 2019 Surveys of Consumer Finances, and the values shown are for Americans aged 35-44 during those years. Home price data are from the Federal Reserve Bank of St. Louis, and adjusted for inflation using the Bureau of Labor Statistics' CPI Inflation Calculator. Data on the cost of a year of college come from the National Center for Education Statistics.
— June 3, 2021
© 2022 Bloomberg L.P.