By Jason Gay
Sept. 23, 2022
My children and I went to the state fair the other weekend, and my ambition was simple: Get out of there as quickly as possible, without anyone having a dramatic case of teacup-and-fried-Oreo motion sickness and without me spending $90 playing games to win a stuffed hamster worth 11 cents.
I succeeded on one of those counts.
---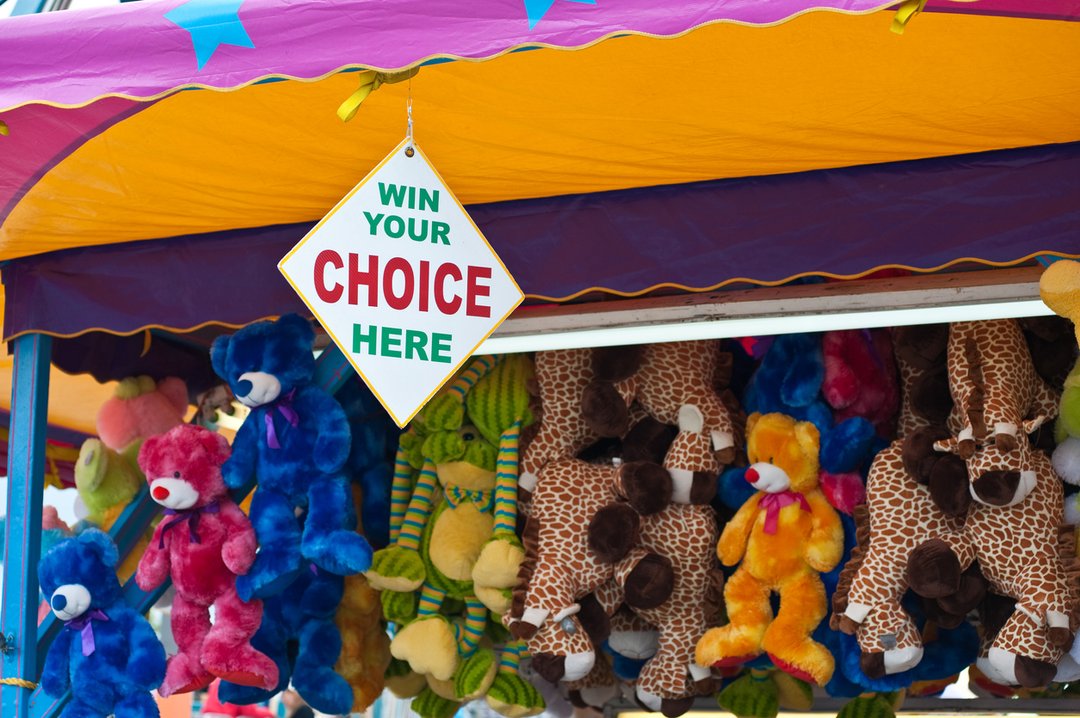 ---
I am a sucker for a carnival game. From a young age, it is as if I have wandered among the dart boards, squirt guns and ramshackle basketball rims with a sign around my neck: HERE TO LOSE MONEY. While I have fond memories of competing for rabbits' feet, Van Halen T-shirts and Jack Daniels mirrors, I've barely won a thing. Carnival workers relax when they see me approach. They know their giant pandas are safe.
Now I appear to have passed on this regrettable affliction to my children, who turn out to be just as crazed for carnival gaming as their father. To them, there is no greater spoil of victory than a stuffed crocodile, no better use of money than blowing through $10 in 40 seconds at the game in which you try to throw a ring around a plastic duck.
I can't blame them. It's hard not to be intoxicated by the experience, especially at night, when a proper carnival takes on an outlaw air: bright lights, grinding noise, the smell of fried dough merging with livestock dung—they love all of it, and so do I.
The games are mostly recognizable, though those darts and beanbags have gotten more expensive. You're still trying to hit things, knock things over, throw balls into hoops and buckets and chase prizes you wouldn't pick up if you found them on the side of the road. Every game looks impossibly easy: Of course I can knock over three milk bottles with a softball! You watch the carnival worker do it ten times in a row, like it's child's play.
But it's not. Every game is its own hilarious scam, and despite my best efforts to use technology to fight back—yes, that was me, watching YouTube videos of "HOW TO BEAT THE MILK BOTTLE GAME" from behind the milk bottle game—they're just as invincible as they were in 1987 or 1955. One of those bottles secretly weighs as much as a Volkswagen. I wasn't knocking over anything, and I was quickly out $20.
Failure became us. My children had some minor successes—my son won a stuffed Pokemon, which he carried around like a record largemouth bass—but they weren't much better than their old man. I felt like I was teaching them a useful life lesson: The house always wins.
Then my hamster-loving daughter saw it: the enormous stuffed hamster hanging from the top hook at a balloon dart game. We bought seven darts for $10, and miraculously, she and I hit seven balloons in a row—pop, pop, pop, pop, pop, pop, pop, a DiMaggio-like streak that was good enough to win…a stuffed hamster the size of a boiled onion.
"If you keep playing," the carnival worker told my daughter, temptingly, "You can work your way up to that big hamster."
I want to tell you I did the right thing, which was to tell my daughter to take the onion-sized hamster and call it a night, and learn the important habit of knowing when to walk away. Alas, I did not do the right thing. We spent the next 15 or so minutes at that balloon dart game, never hitting seven in a row again but gradually working our way up from an onion-sized hamster to a bowling ball-sized hamster to a hamster the size of a dorm fridge and, finally, to a hamster almost the height of my daughter herself. Everybody won. Especially the carnival.
I'm embarrassed to tell you what I spent. I'm sure it makes me a lousy parent and an even worse columnist for a newspaper that's supposed to dispense sound financial advice. But I think of that night, and see that foolish stuffed hamster, and I believe it was worth every penny.