Gretchen Gavett
May 6, 2021
REFLECTIONS ON WHAT DOES (AND DOESN'T) HELP
I am a world-class catastrophizer. Everything, according to my brain, is about to go wrong. The other shoe is ready to drop. Get ready for the worst!
Usually I'm wrong. Most planes and cars do not crash. I have yet to be targeted by a serial killer. I was not having a heart attack at age 12. (It was chronic heartburn due to stress-eating barbecue potato chips, a story for another time.) But this past year was different. A lot of really bad things happened (and continue to happen) on a global scale. My worldview, shaped by my lifelong anxiety disorder, felt confirmed in the most horrible of ways. "See!" I'd say to anyone who'd listen (usually my husband). "I told you something bad was about to happen. Just look at this!" I'd continue, gesturing madly at reports of wildfires, melting polar ice caps, the pandemic, massive job losses and attacks on democracy. I didn't revel in my anxious clairvoyance. Far from it. But my hoarding of toilet paper in early March 2020 did feel prescient. "Aha!" my brain observed. "You were right! Keep indulging in such behavior!"
---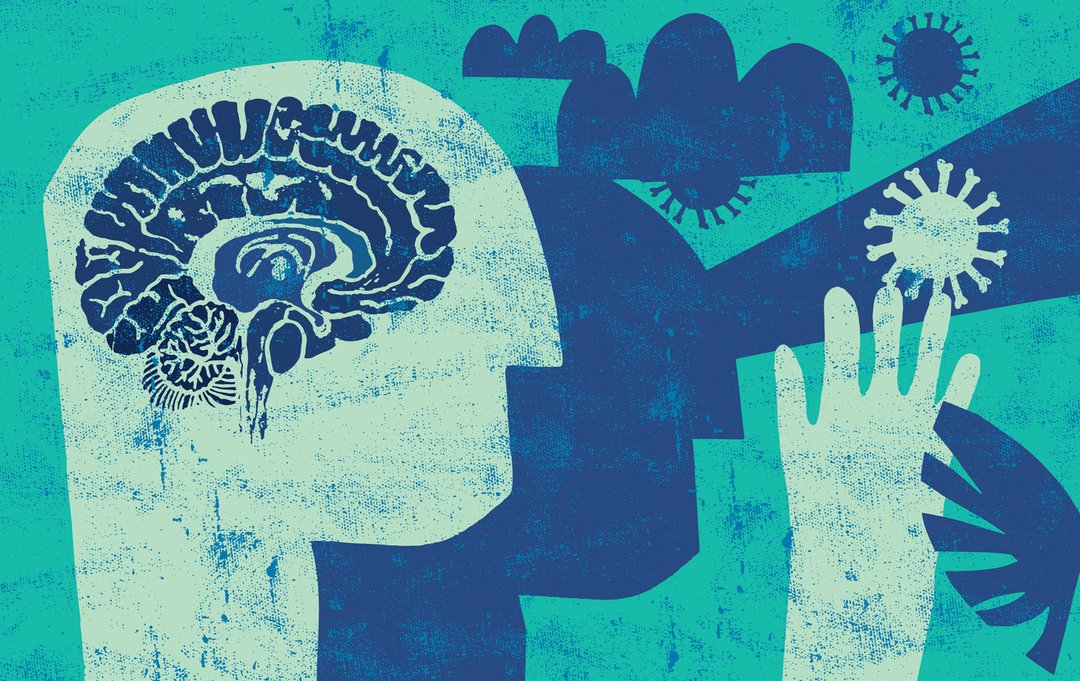 ---
So, what happens to your anxiety when big, bad stuff is occurring — and getting worse? Which coping tactics can you turn to when your usual ones (list making, journaling, meditation, medication) no longer seem to work? And how can you do that in a world where everyone seems more anxious? According to a February American Psychological Association survey, almost half of Americans reported feeling anxiety over the prior two weeks.
Several recently released books offer some guidance. Only some of them discuss the pandemic; nevertheless, they present an opportunity to rethink the problem of anxiety and test new strategies for damping it down or, even better, putting it to more-productive use.
First, the reframing. In "Trust Yourself: Stop Overthinking and Channel Your Emotions for Success at Work," the executive coach Melody Wilding describes "sensitive strivers" as "high achievers who are also more attuned to their emotions, the world, and the behavior of those around them," which struck a chord with me (by which I mean that I ticked nearly every box on a diagnostic quiz). If your anxiety, like mine, stems from acutely experiencing and sensing emotions, causing you to seek approval from others and put their needs first, remember that those traits have some positive aspects, too. (The HBR network podcast host Morra Aarons-Mele uses a different term — anxious achiever — for the same idea.) That's an important mindset shift, Wilding writes, but it must be accompanied by work that protects our mental health. She suggests a series of exercises to help us understand and process our emotions, build boundaries and create better worlds for ourselves. For example, experiment with various grounding techniques — focusing on the physical (sight, sound, smell, taste, touch) rather than the psychological — to see what works for you. Or try tracking your negative thoughts to learn when and why they occur and how to recast them in a more positive light.
Ethan Kross, the psychologist, neuroscientist and professor who runs the University of Michigan's Emotion and Self Control Lab, offers an equally instructive guide to both normalizing anxiety and distancing ourselves from it in his new book, "Chatter: The Voice in Our Head, Why It Matters, and How to Harness It." He writes that everyone faces "grief, relationship turbulence, professional setbacks, [or] parenting struggles" at one point or another. But he urges us to avoid "co-rumination" with others — spinning tales of bad-things-about-to-happen with like-minded people. Instead, he says, we need to get perspective from people who aren't going through such things, who approach our anxious moments with intellect and active listening, not emotion, and who help us move toward behavioral change and solutions rather than spiraling.
Even in the absence of these Spock-like characters, he says, we can create a mental separation on our own with distanced self-talk — that is, referring to ourselves in the third person. "Here we go, Gretchen. You can do this" is a pep talk I use for mundane situations (such as forcing myself to stop doomscrolling on Twitter and instead open up the article I need to edit) as well as high-anxiety ones. Kross notes that finding small moments of awe in nature can also help. (I agree: One of my best days of 2020 was when a hawk landed on a tree outside my kitchen window.)
The you're-not-broken-but-need-better-strategies theme also carries through in "Anxiety at Work: 8 Strategies to Help Teams Build Resilience, Handle Uncertainty, and Get Stuff Done," by the consultants Adrian Gostick and Chester Elton (with Anthony Gostick). From the get-go the authors acknowledge the huge range of anxieties that many of us routinely (and rightly) experience: from concern about fitting into our organizations to panic over the (true) fact that "our world is subject to destabilizing, long-lasting threats, which may arise seemingly out of nowhere and disrupt not only companies but the whole economy." They insist, however, that we can't succumb to paralysis. Any action is better than none, so even if you're not 100% certain about a move, make it anyway, celebrate the small wins and learn from the losses. I'm reminded of Rebecca Solnit's 2016 essay on hope in dark times: "Hope locates itself in the premises that we don't know what will happen and that in the spaciousness of uncertainty is room to act."
Alice Boyes, the author of the terrific 2015 book "The Anxiety Toolkit: Strategies for Fine-Tuning Your Mind and Moving Past Your Stuck Points," hammers on this idea. "Successfully navigating anxiety involves learning how to accept, like, and work with" it, she writes. That means recognizing "that a possible negative outcome isn't necessarily a reason not to do something" and adopting a bias toward action, even when it feels difficult. Here we can come back to Kross. He says that when we know what's required and have — or can marshal — the resources to cope with it, scary things become challenges rather than threats.
After all, we need action — at the individual and the collective level — now more than ever. The pandemic is killing people. Millions are without jobs. Extreme weather is more likely. Democracy is eroding around the world. Really bad stuff is happening and will continue. But co-ruminating won't get us where we need to be. Anxiety, channeled smartly, can help. As Gostick and Elton write, "We find society functions because of the worrywarts in it, not despite them."
c.2023 Harvard Business Review. Distributed by The New York Times Licensing Group.
This HBR article was legally licensed through AdvisorStream.