By Michelle Megna, Editor
May 27, 2022
It's been a challenging few years on the road to the "new normal." And while many vacationers plan to take a downtime detour this summer, concerns about Covid, vacation costs and family finances aren't yet in the rear-view mirror.
---
---
Forbes Advisor surveyed 2,000 Americans with summer vacation plans this year. Here's what they plan to do on vacation, what's impacted their travel plans and more.
Costs and Covid Impact Summer Vacation Plans
More than half (54%) of summer vacationers we surveyed say the cost of trips is affecting their travel plans. Half (50%) report that concerns about Covid and their finances were taken into account when planning vacations.
While safety and scheduling issues also came into play, a third (33%) say their plans were also affected by a lack of agreement on where to go.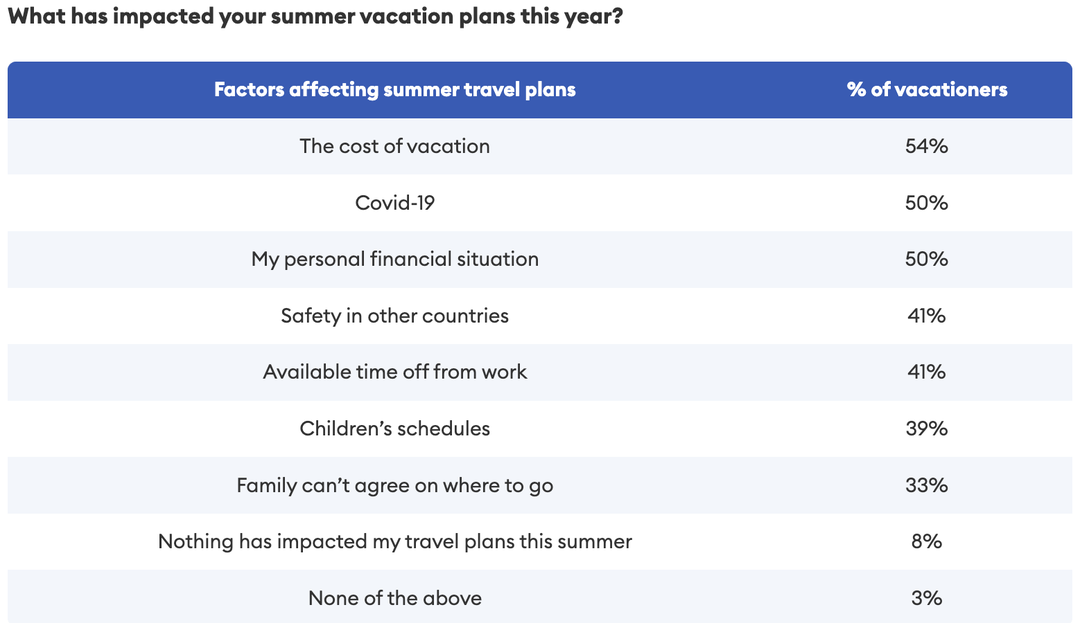 Summer Vacation Cost Cutting
With trip cost the top concern among summer vacationers, money-saving measures may be the financial version of sunscreen—slathered on to prevent vacation budgets from blistering.
Our survey found that Americans planning to take a summer vacation this year say they reduced their original travel budgets by an average of $1,636.
Going to a less expensive destination (45%) is the most popular tactic for trimming costs, followed by taking fewer trips (37%) and traveling shorter distances (35%).
Only 12% of summer vacationers would call their trips "expensive," while 41% say their vacation price tag is "middle-of-the-road" and 30% classify their trip as "cheap/budget."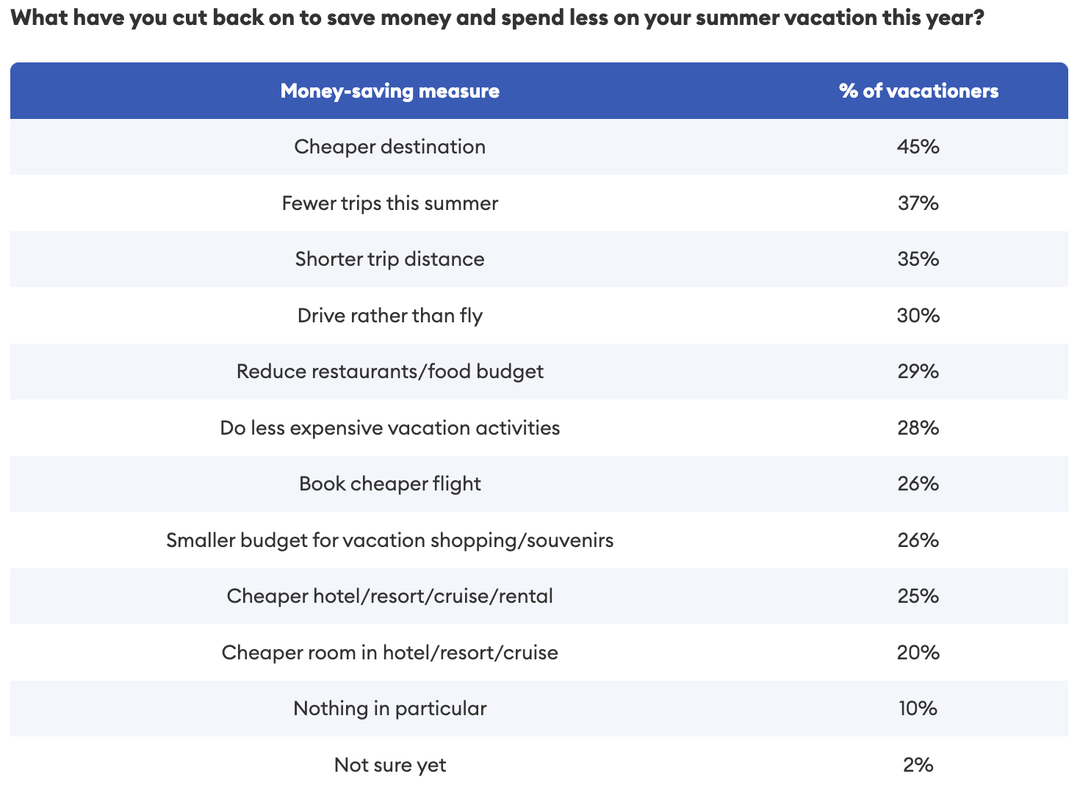 But for Some, a Summer Splurge
Even though many vacationers will be watching their bottom line like a lifeguard on duty during a riptide, more than 40% plan to spend more money this summer than in past years.
When comparing summer travel costs for this year to 2021:
42% say they'll spend more than last year.
28% will spend less.
15% expect their vacation spending to be about the same.
Summer vacation trip costs
Among vacationers buying travel insurance, the average summer trip cost within the U.S. is close to $7,000, according to Squaremouth, a travel insurance comparison provider.
Travelers going abroad are spending more than $7,600 on their trips, on average. (These numbers reflect trips with travel insurance, which are generally not budget vacations.)

Top Summer Vacation Destinations
In general, travelers are more likely to venture out beyond U.S. borders this summer: 79% of travel insurance purchases for trips from June 1 through Labor Day are for international trips, according to Squaremouth. Last year, only 56% of travel insurance purchases were for international vacations.
Italy is the top international destination for summer travel this year, skyrocketing from No. 10 in 2021.
The Philippines landed in the Top 10 for the first time in three years, and Ireland made a comeback after dropping off the list last year.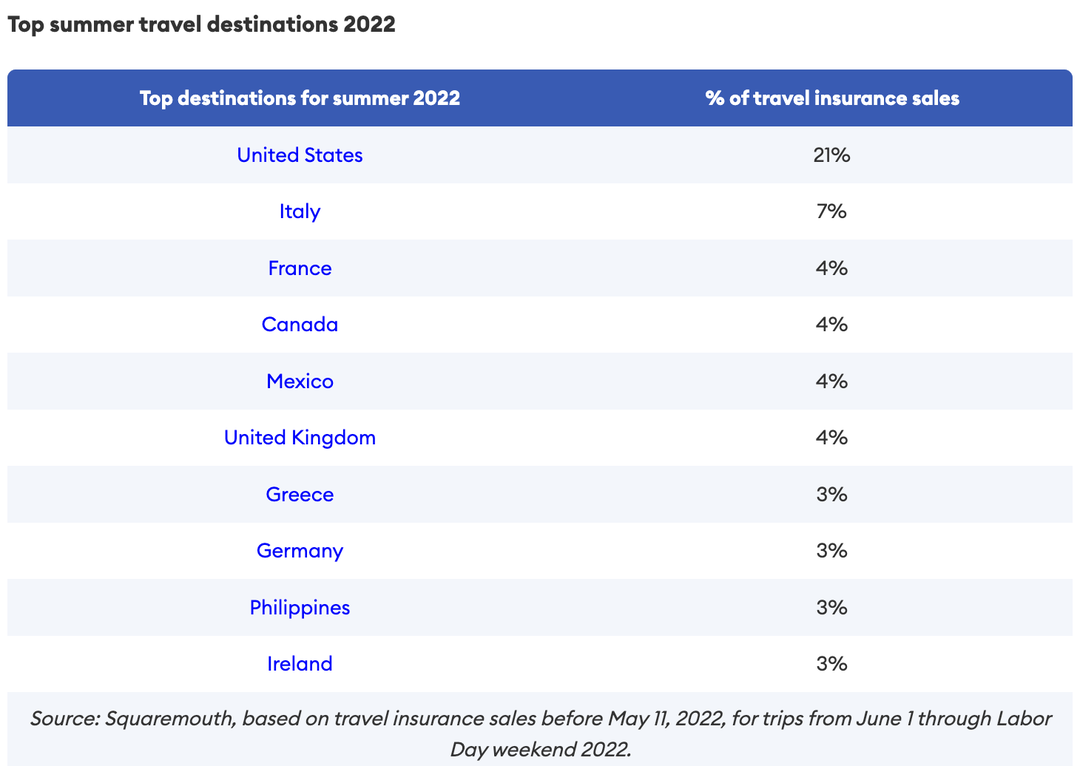 Vacation Consternation: Illness, Emergencies, Bad Weather
Nothing can destroy a well-planned vacation like an illness or injury. Illness (42%) tops the list of past vacation problems, followed by family emergencies (40%) and bad weather (40%) that cut a trip short.
Nearly half (49%) of travelers with summer plans say they have purchased travel insurance. A comprehensive travel insurance plan provides a financial safety net for unforeseen problems that can sink a vacation. This includes coverage for cancellation, illness and sickness during the trip, travel delays and lost baggage. The best travel insurance plans offer generous levels of coverage for each type of problem.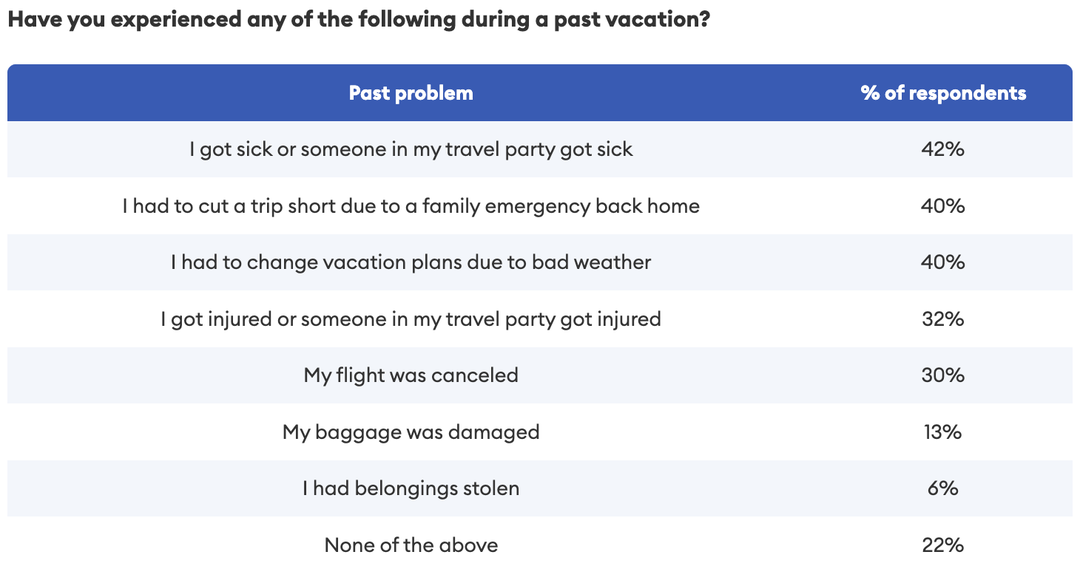 Covid Remains a Top Concern for Travel Insurance Buyers
Finding travel insurance that covers Covid remains a top priority for travel insurance buyers: 34% of travel insurance buyers (nearly the same percentage as last year) looked specifically for plans that cover Covid, according to Squaremouth.
"Cancel for any reason" coverage remains top of mind, too. "Cancel for any reason" coverage is an optional upgrade that provides reimbursement for cancellation no matter what your reason is for pulling the plug. It generally reimburses 50% or 75% of your lost trip costs. "Cancel for any reason" coverage adds an average of 50% to the cost of a travel insurance plan. You usually have to purchase this coverage within a couple of weeks of paying your first trip deposit.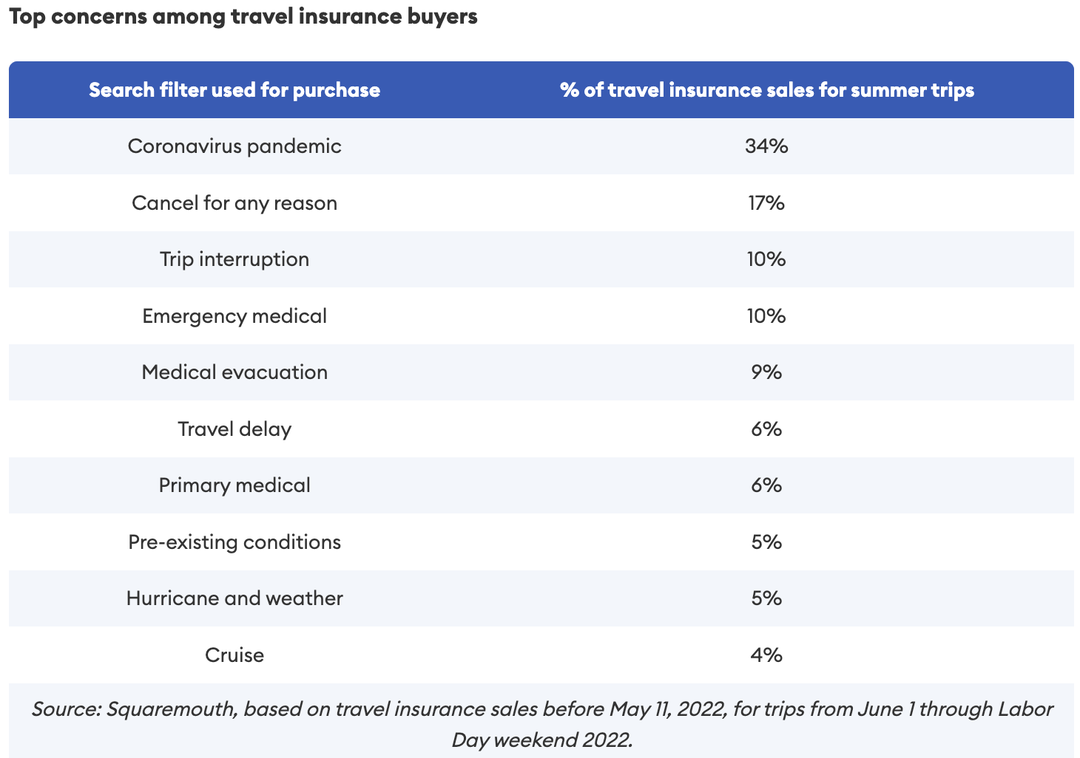 ---
Survey Methodology
This online survey of 2,000 U.S. adults who are planning to travel this summer was commissioned by Forbes Advisor and conducted by market research company OnePoll, in accordance with the Market Research Society's code of conduct. Data was collected April 29 to May 2, 2022. The margin of error is +/- 2.2 points with 95% confidence. This survey was overseen by the OnePoll research team, which is a member of the MRS and has corporate membership with the American Association for Public Opinion Research (AAPOR). For a complete survey methodology, including geographic and demographic sample sizes, contact pr@forberadvisor.com.
© 2022 Forbes Media LLC. All Rights Reserved
This Forbes article was legally licensed through AdvisorStream.