Fortune Staff
Oct. 22, 2018
IT'S TIME TO GET REAL ABOUT A.I.'S FUTURE, a subject in desperate need of discipline. The technology's mind-blowing possibilities have apparently inebriated various seers, who take two routes to fantasyland: propagating boldly precise forecasts of jobs to be spawned and destroyed years hence, or spinning tales of A.I. transforming our world into a heaven (or hell). Instead, we wanted to confront the realities of how A.I. is changing business—minus the melodrama.
---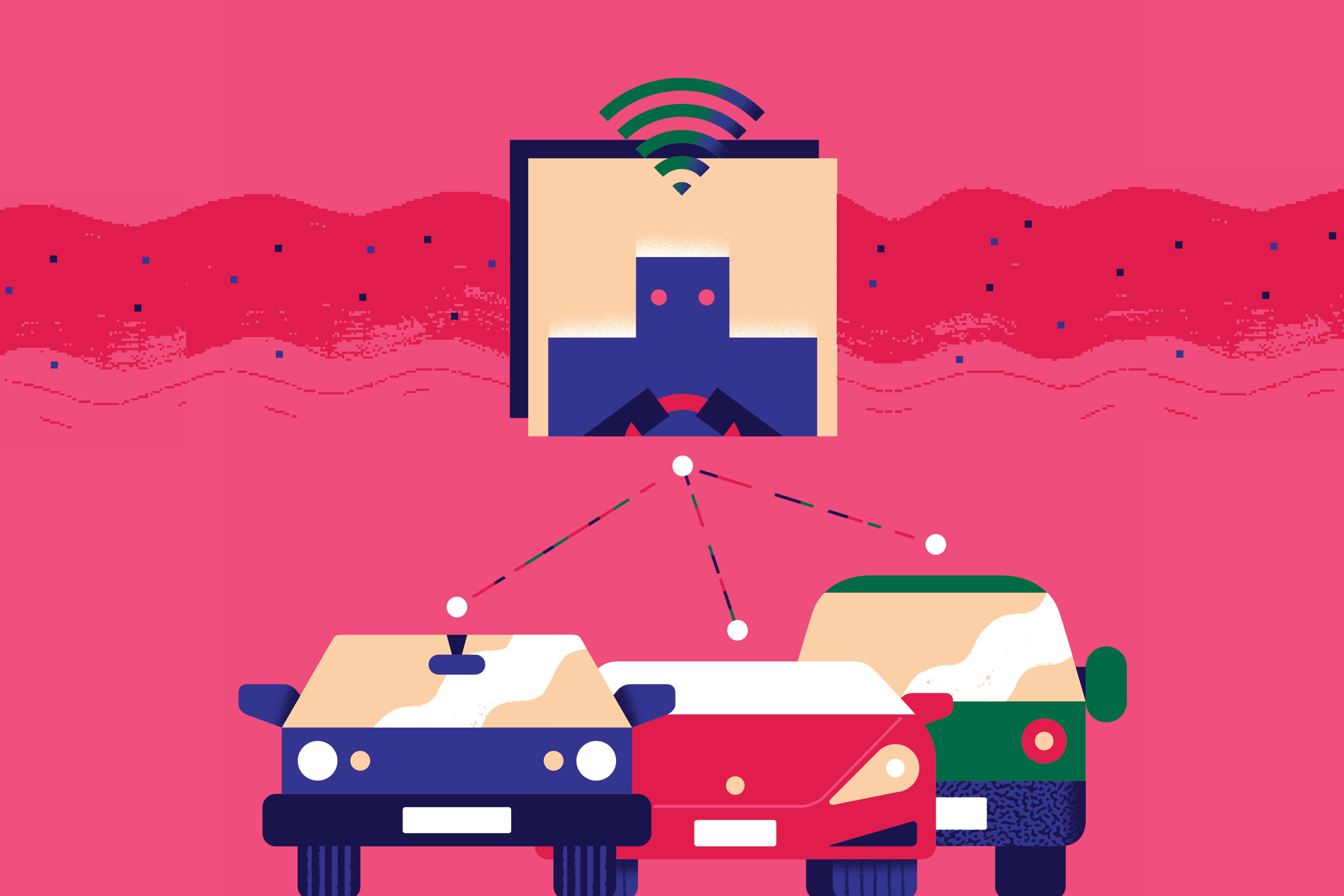 ---
Driving So You Don't Have To
"THE MACHINE KNOWS WHERE IT'S GOING!" CRIED Michael Scott, protagonist of NBC's The Office, before launching a Ford Taurus rental car into a lake near Scranton, Pa. Getting an autonomous vehicle to drive safely under idealized road conditions has technically been possible for a while now, but for the real world, the cars are going to have to learn to drive a little bit more like us. That's where Comma.ai, a startup founded by notorious iPhone hacker George Hotz, comes in. Rather than teaching its computer systems what a tree or a stop sign looks like, Comma.ai's Openpilot technology analyzes the patterns of everyday drivers to train its self-driving models. The company is pulling in millions of miles of driving data from a dashcam app called Chffr and a plug-in module called Panda, then aggregating that data to create an autonomous system that mimics human drivers. The company—whose technology currently works with select Honda, Toyota, and Hyundai vehicles—is styling itself as the Android to Tesla's Autopilot iPhone, an open-source system that is pegging its success to the notion that users will make it better. Let's just hope Michael Scott isn't one of them. —Daniel Bentley
16%
Percentage of women who said they would feel comfortable riding in a driverless car, vs. 38% for men, according to a Reuters/IPSOS poll.
Your New Travel Companion
EYJAFJALLAJÖKULL, it turns out, has stayed with us long after the ash faded away. The Icelandic volcano that erupted in 2010 affected millions of fliers and, in doing so, ushered in a new era in travel communications. With information flow capabilities strained, airlines discovered social media as an effective, real-time way to reach passengers. "Once that happened," says Rob Harles, Accenture Interactive's head of social media and emerging channels, that mode of communication "was an unstoppable force." Since then, however, the number of travelers has ballooned, with 1.25 billion arrivals in 2016, an increase of 30%. Human-powered social media interaction on that scale is "impossible," Harles says.
Enter the customer service chatbot that's able to answer travelers' basic questions: Is my flight delayed? When is my hotel checkout? Booking.com, for instance, has a bot that the company claims can solve 60% of customer queries automatically. The next stage of this technology is for bots to understand the nature of your trip—business or pleasure?—and to make recommendations based on your preferences throughout your journey, ranging from suggesting a flight upgrade to reserving a table at the best vegan café in, say, Pittsburgh. So what's currently known as a chatbot may soon resemble a full-blown automated concierge. —Claire Zillman
Upgrading The Call Center
"CAN I HELP YOU?" By 2020, IBM estimates that 85% of customer service interactions will be handled without a human agent. Machine learning and natural language processing make it possible for chatbots, enhanced phone support, and self-service interfaces to perform most of the functions of human representatives.
As for the 2.7 million Americans who are employed as customer service representatives? Some may be redeployed to tasks that bots can't do (like dealing with truly irate customers). Companies relying on this technology say it can help eliminate human error, drastically increase speed in data retrieval, and remove bias from customer service interactions.
And don't think this ends with bots. Swiss investment bank UBS recently teamed up with New Zealand A.I. expert FaceMe to digitally clone chief economist Daniel Kalt to interact with clients just as he would in the flesh. The bank said the avatar, built using IBM Watson A.I. technology and trained by the real Kalt, is part of its exploration to provide a "mix of human and digital touch." —McKenna Moore
Moneyball 2.0
WHEN NHL SCOUTS looked at Sean Durzi (above) in 2017, they decided to pass on the 19-year-old defenseman. Just one year later, Durzi went second round to the Toronto Maple Leafs. The difference was powerful new A.I. software by Montreal-based startup Sportlogiq that parsed terabytes of data to uncover his powerful playmaking ability—call it Moneyball 2.0. Sportlogiq is just one of several companies using A.I. to help teams spot the next star. "It's all about identifying talent in hidden pockets and finding that diamond in the rough," says Cam Potter, cofounder of Brooklyn ­Dynamics, an Australian data-analytics company that has worked with several Major League Baseball teams and even developed a machine-learning A.I. system for the 2017 Tour de France that collected real-time data points and spit out race predictions.
Brooklyn Dynamics is developing an app that will soon allow time-crunched scouts and coaches to run machine-learning analytics on both prospects and current players, creating a centralized database that can be accessed by college and pro teams around the world. "It's a unique tool to add to the recruiter's repertoire," Potter says. "Other members of the organization can then look at [the stats] and join in on the draft discussion to eventually decide who's going to bring value to the club." —Carson Kessler
Change How You Shop
BRICK-AND-MORTAR stores have a new calling: They're perfect A.I. data collection labs. Home Depot is using data from millions of transactions to figure out what else you—the DIY-er grappling with, say, a big kitchen renovation—might need and provide detailed home project guides as well as hyper-targeted cross-selling. Sephora has used A.I.-powered facial recognition by ModiFace (recently bought by L'Oréal) to help shoppers select that exact right makeup shade: The software analyzes millions of other past users to better predict what will look good on you. And MIT-spinoff ­Celect uses machine learning to forecast how shoppers behave, determine what kinds of promotions work better in what part of the store, and figure out where products should be placed for optimal results.
As for that price check in aisle 10? Walmart, for one, has tested robots at 50 stores that scan shelves for out-of-stock items, products placed back in the wrong spot by customers, and incorrect prices —all time-consuming and cumbersome jobs for humans. Though retailers are tight-lipped about in-store tech, companies like Navii and Simbe that make A.I.-powered robots are attracting attention and investors, according to CB Insights. —Phil Wahba
Will This Ad Make You Smile?
MARKETERS DON'T ALWAYS hit the mark—we're looking at you and that Kendall Jenner spot, Pepsi—but increasingly, they're leaning on artificial intelligence to make those misfires less likely. Emotion A.I. firm Affectiva says a quarter of Fortune 500 companies use its tech in their creative development processes, testing the reaction to potential ads in A.I.-enhanced survey research. Affectiva's system, which has been trained on images of 7 million faces (and 3.8 billion facial frames) from 87 countries, decodes the facial expressions of individuals—the tech identifies 20 specific ones as well as eight emotions, including "disgust"—moment by moment as they watch ads.
Media research giant Kantar Millward Brown, which has deployed Affectiva's product since 2011 (30,000 ads' worth) found Nike's lauded Colin Kaepernick ad scored smiles at key points. "We were really able to pinpoint the fact that it was Kaepernick's message about sacrifice and dreams that triggered the positive response," says Graham Page, the firm's managing director. They also found that viewers responded positively, and with surprise, to women players featured in World Cup ads.
Page noted that beyond helping clients sharpen their campaigns, Kantar has gained broad insights that benefit all clients. Ads that viewers describe as "progressive," with protagonists featured in modern roles (rather than traditional ones) are 25% more effective, according to the firm.—Erika Fry
Growing Your Next Meal
ON THE SURFACE, FARMING SEEMS LIKE a simple endeavor: Pop seeds in the ground, water, harvest, repeat. But in reality, how food is grown is built on a series of intricate equations. "A lot of the data we deal with in agriculture is very complex," says Nate Storey, the cofounder and chief science officer of Plenty, an indoor vertical-farming enterprise. Environmental factors (airflow, carbon dioxide, light, and humidity, to name a few), the genetics of the plant, and the things we do to it, like fertilizing and watering, are all interacting variables. Now Plenty and a number of other startups are using A.I. to help manage the complex decisions that go into farming. For example, Plenty and its indoor-ag rivals Bowery and Gotham Greens are all building systems that collect and analyze data sets of images that can help identify whether a plant has an issue, like nitrogen or iron deficiency or a pest problem, through machine learning and then preemptively treat it. "The software can learn what the problems are and do it in an automated fashion at a large scale that we couldn't individually do," Storey says. —Beth Kowitt
This article was written by Fortune Staff from FORTUNE and was legally licensed by AdvisorStream through the NewsCred publisher network.